ARCHIVE


Harvard Business School Executive Education - BBC: "Smart ways to get Harvard Business School on your CV" — "Top business schools, including Harvard, have long attracted business people who want to further develop their skills, build their network and hone a competitive edge. But unlike degree programmes - where admission rates can be as tough as just 7% of applicants and require near-perfect GPAs (Grade Point Averages) and test scores - many of the executive education programmes have few academic admission requirements." "At Harvard Business School, executive education revenue made up $168 million out of $707 million total revenue in 2015." — More.
---
Splendid Isolation. — "It's true that our geography has shaped our psychology," PM David Cameron said on the morning of January 23, 2013, after his party had forced him to deliver a speech that foreshadowed his own political destruction. "We have the character of an island nation — independent, forthright, passionate in defence of our sovereignty. We can no more change this British sensibility than we can drain the English Channel." — Financial Times 24 June 2016.
The Voices of 103 Heads of UK Universities: — "The impact of our universities on our local communities and economy should not be underestimated. Every year, universities generate over £73 billion for the UK economy £3.7bn of which is generated by students from EU countries, while supporting nearly 380,000 jobs.

Strong universities benefit the British people - creating employable graduates and cutting-edge research discoveries that improve lives." "We believe that leaving Europe would create a difficult environment for the long-term investment in higher education and research that is necessary for the UK to maintain its position as a highly skilled and a globally competitive knowledge economy." From an open letter to UK voters from leaders of 103 British universities — Independent 21 June 2016.
Brexit: UK business schools uncertain but optimistic. Despite concerns over funding, institutions believe they will remain attractive, aided by weak pound. Financial Times 11 July 2016.
---
AASBI's Vision of the Future of Higher Business Education — AASBI recognizes that in a decade or two, half of the world's 13,000 business schools will be extinct for failure to shift educational emphasis away from dusty textbooks, old and gray theories, towards professionally relevant technical applications. — Faculty qualifications will include not only academic degrees but professional licensing certificates in the instructors' teaching areas, and they will largely be adjunct faculty instead of expensive full-time and tenured career academics. — In educating future business students, the present emphasis on research is not a substitute for solid demonstratively successful work experience. Accounting, for example, is a convention based on concepts, promulgated principles, rules and regulations leaving little room for research except applications, permitting surveys to masquerade as new-found knowledge. — More
---
MBA: With U.S. enrollment down, B-schools are wooing foreigners. — "As the U.S. appetite for the MBA degree wanes, many of the country's more than 700 B-schools are stepping up recruiting abroad, where regard for this American invention appears undiminished." Roger Martin, who led the University of Toronto's Rotman School of Management for 15 years predicts that half of U.S. business schools may not be operating in 10 to 15 years, because there won't be enough enrollment to support their "very bloated" cost structures. — Article by Nick Leiber, BloombergBusiness 18 March 2016 More
---

Asia drives demand for international schools — Another top English boarding school is setting up a school in China, travelling the path taken by schools such as Harrow, Dulwich College, Malvern and Wellington. "They don't want to be westernised but they want to apply to western universities." — "Some parents also want their children to rub shoulders with an international elite and build contacts for a future career." "Another motivation is to escape the relentless drudgery and ferocious competition of a local school system based on rote learning and geared only towards exams." — BBC 16 Feb. 2016. More.
---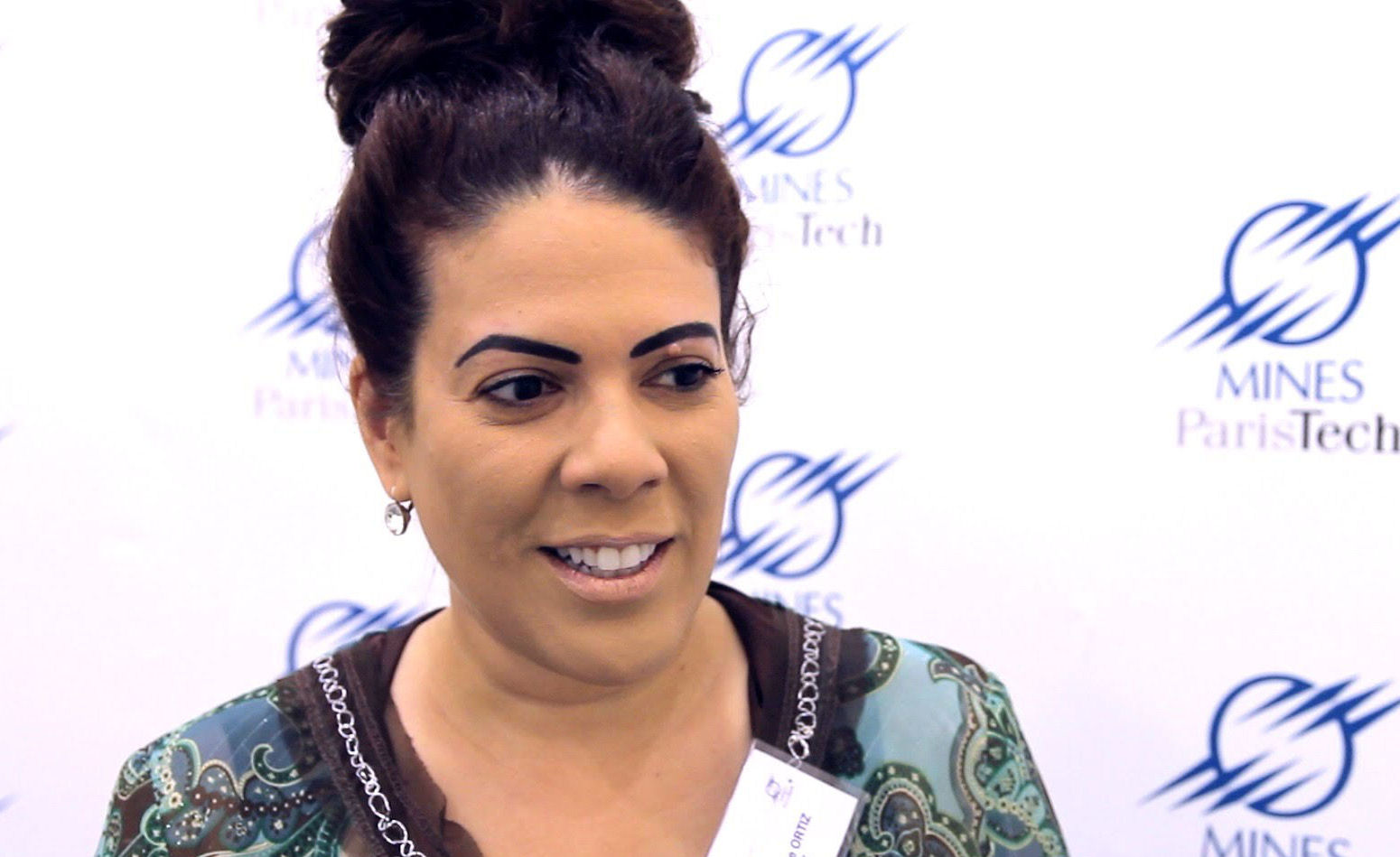 Christine Ortiz at Deans' Forum 2015, MINES ParisTech
MIT Dean Wants to Start a New Radically Different University in Massachusetts — Professor Christine Ortiz, a dean for graduate education at MIT, is taking a one-year leave at the end of the 2016 to start a new non-profit research university in Massachusetts. There will be no lectures, majors, or classrooms, and no distinction between undergraduate and graduate students. Instead, the university will place a focus on "project-based learning". The success of her new school will determine whether she will return to her material sciences professorship in 2017. Ortiz is currently finalizing her founding team and beginning the legal process for establishing a university. — 01 February 2016 More
---
Business schools no longer relevant in the age of automation — Business schools "were found wanting in the 2008 global meltdown — look at articles on "business schools to blame for financial crash". But this is nothing compared with the crisis now brewing in business, and the complete lack of understanding or leadership from business schools to manage it." — Financial Times 10 January 2016 More
---
China's new found love of private education — BBC 24 December 2015 More
---
Lessons for ASEAN on the Globabilzation of Education — "The latest Open Doors report has once again demonstrated the urgent need for Asean countries to take immediate steps for the internationalisation of education. While China, India and South Korea have quickly emerged as players in the domain of international education, ASEAN, and in particular Thailand has not made its mark as yet." — More
---
Growth in International Enrolment Up. But Growth in Future is Slowing — While showing robust growth in overseas enrollments during the past academic year 2014-15, there are already signs, however, that the future outlook could be gloomier. — More.
---
Shareholder Value: One of the most important lessons of business school is pretty much wrong. — The Buddhist Priest Who Became a Billionaire Snubbing Investors: — Kazuo Inamori, founder and chairman emeritus of Kyocera Corp. — "All that stuff about focusing on shareholders? Forget it, says Kazuo Inamori, entrepreneur, management guru and Buddhist priest. Spend your time making staff happy instead. He's used this philosophy to establish electronics giant Kyocera Corp. more than five decades ago, create the $64 billion phone carrier now known as KDDI Corp., and rescue Japan Airlines Co. from its 2010 bankruptcy."
"The secret, as Inamori tells it, was to change employees' mentality. After taking the CEO role without pay, he printed a small book for each staff member on his philosophies, which declared that the company was devoted to their growth. He also explained the social significance of their work and outlined Buddhist-inspired principles for how employees should live, such as being humble and doing the right thing."

"Inamori's less-extreme capitalism is a product of Japanese society, which he says is less willing to accept gaps between haves and have-nots than western economies. Executives have to take that into account, he said. 'Companies do belong to shareholders, but hundreds or thousands of employees are also involved,' Inamori said. 'The hen has to be healthy.'" — Tom Redmond and Takako Taniguchi BloombergBusiness 05 November 2015
---
Best Business Schools 2015. — "This year, we've revised the way we rank schools. For the first time, we surveyed MBAs after graduation for more insight into what graduates can expect in their future careers. We detailed some of the standout findings about MBA alumni in a separate report—including a broad pay difference between male and female MBAs that starts small, but gets bigger as they continue their careers.
"Older elements of our ranking, including a tally of faculty research, have been scrapped because they don't get at our fundamental question: How well does this business school channel its graduates into good jobs?"
The Ranking - Full-Time MBA: International: (1) Western (Ivey), (2) London Business School, (3) INSEAD (Fontainebleau), (4) IE (Madrid), (5) IMD (Lausanne), (6) Oxford (Saïd), (7) IESE (Barcelona), (8) Cambridge (Judge), (9) Queen's (Kingston, Ontario), (10) HEC Paris, (11) ESADE (Barcelona), (12) SIDA Bocconi, (13) Cranfield, (14) St. Gallen, (15) ESMT (Berlin), (16) McGill (Desautels), (17) Mannheim, (18) Toronto (Rotman), (19) Manchester, (20) Imperial College London — Bloomberg 24 Oct 2015.
---
SPUP - St. Paul University Philippines. — Int'l Research Conference and Call for Papers - "Towards an Integrated ASEAN Community" at Tuguegarao City, the Philippines, January 14-16, 2016. Topics: Business & Hospitality, Health Sciences, Technology and Engineering, Science and Mathematics, Environmental Stewardship, Global Education, Spirituality, Language and Humanities. — More.
---
Education by 2040 — The number of students enrolled in tertiary education today exceeds 200 million globally, compared to 47 million in 1980. Enrolments are projected to exceed 660 million by 2040. This would represent 10% of the world's population aged 15–79 by 2040, compared to 4% in 2012. — By Angel Calderon at University World News - Issue No. 381 - 11 September 2015— More.
---
McGraw-Hill CEO expanding on open learning. — University text books are a thing of the past. McGraw-Hill education CEO David Levin explains to John Authers why the company has embraced 'open learning' which represents one of the biggest steps yet in the company's transition from a publisher to a learning science company. — Video Financial Times, 5th August 2015.
---
Australian schools must turn global. — Sep 4, 2015 : Zeger Degraeve, dean of Melbourne Business School, explains to FT Business Education correspondent Jonathan Moules the need for Australian schools to become conscious of their place in the world. — Video Financial Times, 4th September 2015

---
Rule of law in China, a country which locks up its human rights lawyers — Dozens of Chinese lawyers have been detained or interrogated over recent days in what seems to be a co-ordinated roundup. The crackdown has targeted those who take on cases involving free speech, human rights and abuses of power, presenting many of them as motivated by greed and a reckless disregard for social order. — BBC News-China 13 July 2015 More

---
Dreams Collide With China Slowdown for Job-Seeking Graduates. 7.5 million college graduates are entering China's job market this summer 2015, the most ever and almost seven times the number in 2001. There is a yawning skills gap between what the economy needs and what graduates want to do. Graduates last year most wanted to be secretaries, teachers, administrators, accountants and human resource managers, yet the top five needed by employers were salesmen, technicians, agents, customer service staff and waiters. — More.
---
Entrepreneurship can be taught, say educators. — The problem, as he sees it, is that universities and business schools have been treating entrepreneurship as a technical subject, such as accountancy, when it should be taught more like a creative subject, such as art, where practical exercises are as important as the theory. "I realised that for entrepreneurship, we have been asking the wrong question," Mr Blank explains. "It is not whether we teach entrepreneurship - of course you can do that. It is who you can teach it to." — Financial Times 8 June 2015 More
---
Why do so many Chinese students choose US universities? — There are more than a quarter of a million students from China in colleges in the United States - a third of all international students in the country - and almost a fivefold increase since 2000. - BBC News 2 June 2015 More.
---
Asia: The next higher education superpower (2015)? — "The center of gravity in higher education is perceptibly shifting to Asia where more than half of the world's population is found. This thought-provoking book raises new questions about interconnectedness and interdependence in higher education with the Asian factor fully in focus." — Anne Pakir, Associate Professor, National University of Singapore. — More.
---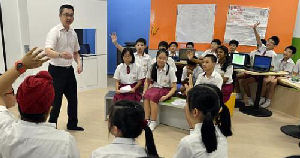 Singapore Straits Times
Asia tops biggest school ranking — Rankings based on mathematics and science at age 15. The analysis, based on test scores in 76 countries.

1. Singapore; 2. Hong Kong; 3. South Korea; 4. Japan; 5. Taiwan;
6. Finland; 7. Estonia; 8. Switzerland; 9. Netherlands; 10. Canada;
11. Poland; 12. Vietnam

"If you go to an Asian classroom you'll find teachers who expect every student to succeed. There's a lot of rigour, a lot of focus and coherence. These countries are also very good at attracting the most talented teachers in the most challenging classrooms, so that every student has access to excellent teachers." The report, published by the OECD and written by Eric Hanushek from Stanford University and Ludger Woessmann from Munich University, argues that the standard of education is a "powerful predictor of the wealth that countries will produce in the long run". — BBC Business | The Straits Times Singapore - 13 May 2015.
See also OECD- PISA Programme for International Student Assessment. — See also "The Role of School Improvement in Economic Development" Hanushek's and Woessman's (2007) paper "The Role of School Improvement in Economic Development" published 9 January 2007
---
Results of Higher Education Reform in Asia, Sixty Years Later — In ASEAN, Thailand, Malaysia and Indonesia have shown great qualitative achievements in promoting their higher education. Approximately three in 10 Indonesians are at the age of entering tertiary education, just behind Thailand and Malaysia. Indonesia has 4,251 higher-ed institutions serving over 5.1 million students. This is a positive trend with a compounded annual growth rate of 6.1 percent, up from total students of 3.8 million in 2009. With its existing gross domestic product (GDP) of $2.55 trillion USD (2014), the World Bank reports Indonesia as the 9th largest economy in the world. More.

Image Universita Surabaya - Learning Beyond the Classroom
---
Laureate Education: World's Biggest For-Profit College Chain Plans $1 Billion IPO — Laureate Education Inc. (Honorary Chairman former President Bill Clinton), is launching a $1 billion initial public offering in the United States. The company could be valued at about $5 billion. Based in Baltimore, Laureate Education Inc. owns 84 universities, mostly in emerging markets.
The For-Profit Education Index of 13 companies, including DeVry Education Group Inc. and Apollo Education Group Inc., has plunged 55% since its peak five years ago, student enrollment has slowed amid recruiting abuses and student debt concerns, leading to a regulatory crackdown. More.

Image: Bill Clinton | Be Creative Be DIY
---
How can Asia compete for international students? — Asia is diverse and full of potential. It is rife with complexity and change. Maximising the potential of Asian universities to become a hub for international students will require diverse, innovative solutions that align student needs with institutional value propositions and a supportive policy environment. — Article by Rahul Choudaha at University World News 27 March 2015
---
An "Apple University" in Asia — Apple plans to intensify its presence in Asia with an extension of its Cupertino, California-based internal training program, the so-called Apple University to China. "Apple University is an extensive and growing program within corporate Apple that trains mid-level employees and managers on the decisions made by Steven Jobs and other key executives. Jobs created the program alongside former Yale School of Business Dean Joel Podolny." — More — Story by Mark Gurman and picture on 9to5Mac Apple Intelligency 03 November 2014 — Image left: Timothy Donald Cook, 54, CEO of Apple, speaking at a conference in China.
---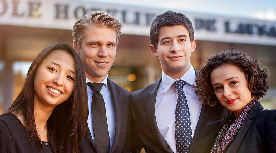 The 10 Top Global Hotel Management Schools — The top 3 schools are all Swiss. The winners' rostrum is made up solely of Swiss institutions since in second place, behind Ecole hôtelière de Lausanne, we find the Glion Institut des Hautes Etudes, while Les Roches comes third. "The ranking confirms the excellence of the Swiss educational model, which provides both immersion in practice through internships in the hospitality industry and also extensive academic teaching." — More.
---
Changes Young People Want in Education: Thailand — An overwhelming proportion of youths want curriculum chang with more practical skills applicable to both work and real life rather than a mere emphasis on theoretical knowledge. Some call for schools to tach critical thinking and analytical skills so that students could carve their own opinions and think outside of the box. Unique to Thai responses, some youths also desired for their curriculum to contain less elements of patriotic education. — More.
---
Business Schools of the Future
Opinions by industry, consultants and academe published as a "white pager" by Grenoble École de Management, 2014.
Thoughts on the School of the Future — "Domestic demand for the MBA in its traditional markets, North America and Europe, is stagnating...Demand for business programmes is being propped up by students from emerging markets - particularly in Asia - who are still drawn by the cachet of a management degree from a prestigious Western institution." — Bill Ridgers, The Economist.
"By 2025, the number of students worldwide is projected to double to 260 million. Half of this growth will come from China and India, two countries already planning to build hundreds of universities." — Patrick Aebischer, EPFL École Polytechnique Fédérale de Lausanne. More.


Picture: South University of Science and Technology of China (SUSTC) is widely regarded as the country's first test for a new educational system meant to give the students better training for innovative research. Focus on education reform by chinadaily.com.cn 2013-06-27 16:09
---
Europe's Business Schools Top the List of the Deans' Choices
2014 Global Survey
— According to the Deans' Choices, one-half (48%) of the world's top 50 business schools are located in Europe, one-third (34%) in the United States and Canada, seven or 14% in Austral-Asia, and suprise-surprise two or 4% in Capetown, South Africa.
— While Harvard, Yale, McGill, and Stanford are found in the top 10, MIT, Cornell and Columbia are not. Instead, Copenhagen (Denmark) takes the top spot, followed by INSEAD (France), Rotterdam's Erasmus University (The Netherlands), Vienna University (Austria), HEC Paris (France), Bocconi (Italy), IMD Lausanne (Switzerland), and ESADE of Spain. In Asia, NUS Singapore is a well-deserved 20th on the list.
— The Deans' choices are an informed component in the peer assessment around the world from a recognized survey. - See Complete 1,000 B-School Listings on Excel or as a single HTML file. — See also EdUniversal's The best 1,000 Business Schools in 154 countries retrieved November 2014

The 100 Most Popular Business Schools 2014 by FIND MBA based on number of Profile Views by region:
Lists Asia | Europe | United States

The Best Business Schools by Forbes
Lists International | United States
---
What makes a global top 10 university? The Academic Ranking of World Universities (ARWU) website — 2014 Top 500 universities — Top 200 in Economics/Business — also known as the Shanghai Ranking produced by the Shanghai Jiao Tong University, was first published in 2003. "The ranking, backed by the Chinese government, was designed to provide a global benchmark against the various universities in China so they could assess their progress. More.
---
Specializations are more important than MBA rankings.

The QS Global 200 Business Schools Report claims to measure only one indicator – the employability outcome of an MBA program by region and specialization. Business school specializations are the 8th most important criterion for school selection. School specializations are more important to applicants than MBA rankings, convenience of location, or recommendations from peers, colleagues and even employers. The MBA curriculum is changing.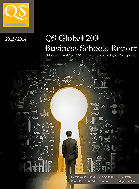 There is now greater diversity in the many MBA specializations on offer.
The report looks at the following 10 core MBA specializations:
(1) Corporate social responsibility
(2) Entrepreneurship
(3) Finance
(4) Information management
(5) Innovation
(6) International management
(7) Leadership
(8) Marketing
(9) Operations management
(10) Strategy.
The Report highlights four distinct categories of business school in terms of employer recognition: Elite Global; Emerging Global; Elite Regional; Emerging Regional• Of the 33 leading institutions to make the Elite Global category, 12 are from the US. The other nations with Elite Global business schools are Canada (6), UK (3), Spain (3), Switzerland (2), France (2), Denmark (1), India (1), Ireland (1), Italy (1) and Singapore (1).
There is greater onus on choosing the right country as well as the right business school. According to the survey 2013, over 50% of MBA students are choosing schools based on the country in which they wish to work.
— 2013/2014 QS Global 200 Business Schools Report. "Unlocking the world's top 200 business schools according to MBA employers," BY Nunzio Quacquarelli (MA Cambridge, MBA Wharton) and Danny Byrne (BA Oxford, MA University College London).
---
OECD Countries' expenditures for post-secondary education — "In 2010, the United States spent $11,826 per full-time-equivalent (FTE) student on elementary and secondary education, an amount 39 percent higher than the OECD average of $8,501. At the postsecondary level, U.S. expenditures per FTE student were $25,576, almost twice as high as the OECD average of $13,211." — More
---
East Asia leads the world in academic research funding. — Businesses are investing the equivalent of $100,000 in each research scholar in South Korea to carry out work in innovation and research on their behalf. Singapore is in second place with $85,500 per academic, with the Netherlands are third with $75,000. The US takes 14th place with industry contributing $25,000, the UK is in just 26th place. More August 2013.
---
"The Chronicle of Higher Education has a new tool out that answers just that question."
Picture and quotation: Edudemic connecting education & technology.

Faculty salaries at public universities worldwide.
Survey summary published by Inside HigerEd 22 March 2012.


---
India's higher education challenges — Abstract: "India, with the world's second largest higher education system and a rapidly growing economy as one of the BRIC nations, faces significant challenges in building both capacity and excellence in higher education. India's higher education system is characterized by 'islands of excellence in a sea of mediocrity.' The mainstream universities are recognized as lacking in quality. Only the Indian Institutes of Technology and related institutions garner international recognition. This article analyzes the challenges facing India's higher education system in the twenty-first century." — By Philip G. Altbach, Monan University Professor and director of the Center for International Higher Education at Boston College. — More — See also Higher Education Across Asia. An Overview of Issues and Strategies a detailed report by the Asian Development Bank, November 2011.

It all depends how you measure
---